Recommended pool table room sizes based on pool table dimensions
Make Room In Your Life For Pool – Make Room In Your Home For A Pool Table!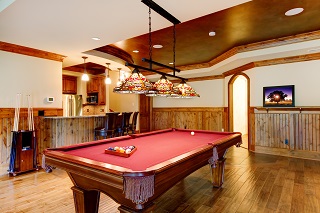 Are you interested in buying a pool table or maybe just need your pool table installed? If the answer is yes, please consider the dimensions and size of your game room. To help you we have included a chart of the approximate pool table room sizes to assist in what table size to buy and which room is better fit. *(The chart is based on the use of a standard 58″ cue stick)
You may also want to consider the furniture you currently have or plan to have in your game room. If you have the game room too crowded certain things may become obstacles that interfere with the gameplay experience. Make sure this isn't an issue prior to having your table installed, because if it needs to be moved after installation it should be disassembled prior in order to avoid damaging to the frame. Whether the move is across the room or a few inches disassembly of the table is necessary.
SOLO® pool table movers have years of professionally moving, installing, and repairing pool tables. So if you are in need of assistance in determining the proper pool table size for your room or room size for your pool table, we can surely help. For your convenience, you may also use the chart we have created to better assist you.
The true size of a pool table is determined by the measurements of the actual playing surface area. Best measurement practices are from bumper to bumper, this is used to best determine your pool table size and also if interested this helps with determining the size to cut the felt cloth for refelting tasks during the assembly. If you may be purchasing a used table make sure to ask the seller the true pool table size so that you are sure it will be a good fit in your game room. The dimensions of your game room will determine the best pool table sizes you should consider, making sure you enjoy a comfortable playing experience.
Why it's important to know the pool table sizes and game room dimensions?
Knowing the pool table size and game room dimensions are very important factors when it comes to purchasing a table, new felt, and also for pool table moves or installations.
When purchasing a pool table and you need it moved up or downstairs, it is important to know if it is greater than the standard 8″ pool table size. Larger tables usually have a price difference than the standard to smaller size pool tables when it comes to moving or installing those pool table sizes. It also let us know how much manpower is needed to have the job completed efficiently, safely, and in a timely manner.
If unaware of the actual pool table size while purchasing felt, it could complicate things for both you and the installer. This error could be very costly because it would require you to purchase an additional cut of cloth if the table is larger than originally advised. It could also incur costs if the installer has to make an additional trip out to you home. If the table happens to be smaller it would not cost additional but it could extend the time spent on the services due to the need for re-measurements.
Making sure the room size is sufficient enough to allow comfortable gameplay is another factor.  Once the table has been installed in a specific area, moving it elsewhere due to the size and room position could be costly. Most people tend to try moving the table themselves because it may be just a few inches, but please be cautious, such moves can and will damage the frame of your pool table. Pool table room sizes are important for a successful job and it's super handy to know when checking the pool table size you can get.
Pool Table Room Sizes Chart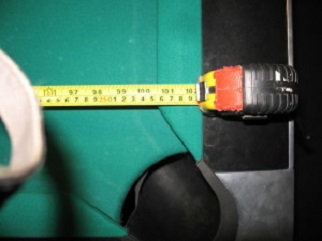 7′ x 3 ½' – 7-foot pool table needs roughly 17′ x 13½'
8′ x 4′ – 8-foot pool table needs roughly 18′ x 14′
9′ x 4 ½' – 9-foot pool table needs roughly 19′ X 14½'
Measure from tip of bumper to tip of bumper across the width of your pool table to find your table size. You can find the pool table room sizes required by determining what size your pool table is. This is especially important when calling for pricing, refelting or moving because this will change the pricing on both services.
Call our professionals if you're ready to move and install your pool table.